In our day and age, water and plastic have become virtually inseparable– yet we are fast figuring out that they do not go so well together.  Determined to do better in our home, my partner and I set out to come up with something better.  Imagine: a locally made, 100% organic, home water solution.

For the last year, I have been working with artisans in our community to craft a water system for our home.  Working with our friend the glass blower and potters from the neighbouring island, it has been an exciting journey of innovation.  We have called the project the Lotus Water Cradle.  The name is inspired by the beautiful lotus that blossoms from the muddy swamp.  In the same way, we've created a system that turns ordinary tap water into a luminescent sculpture– that you can drink from.

We've worked hard to source as many local and organic components as possible.  The teak is from either Bali Bamboo or Java teak.  The glass is hand blown in our town of Ubud.  The tap and light socket, we've been sure to use high quality metal fixtures.  The optional seal between the glass and the clay is made from up-cycled car inner tubes.
The system uses the tried and tested Nasava brand water filter.  Rather than buy the bulky, two plastic jug Nazava system, our setup requires only the candle!  The candle filter simply screws into our pottery water tank.  The Rp120,000 candle is good for six months of use.  It should be cleaned regularly.  Replacement is easy– the filters can be purchased in stores in Ubud and Sanur or online.  Meanwhile, I continue to ponder how eventually we can remove the candle all together and use our own ceramic, sand and charcoal.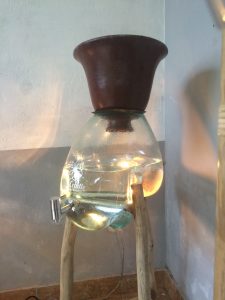 The current Lotus Water Cradle is setup on a teak wood frame.  A built in light slips up into the glass to illuminate the water.  We keep ours on a wavering night light.   I occasionally wake up in need of a glass of water– I can wander over without having to turn the lights on, fill up my glass and go back to bed.
We are currently working on a 100% pottery water cradle on a bamboo frame.  This will offer some benefits over the glass system:  cooler water, less cleaning, lower cost and more locally replicable.  Of course, it will be missing out on the built in light.
Depending on the amount of sunlight exposure to your water cradle, you will need to empty and wash once a week to once a month.  We are now experimenting with low wattage LED bulbs, which seem to reduce the need for washing even further.
Download the Lotus Water Cradle Concept Doc v1.3 for more information.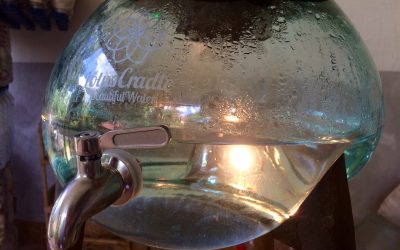 Well, we've got our latest water cradle all fixed up! I am drinking it's sweet water at home this week. This cradle is the culmination of all our work on an organic filter system in 2017. I've learned tons about glass blowing, pottery making and just...
The LotusCradle is a celebration of the beauty and wonder of pure drinking water. Fully made and designed in Bali, it is a simple, organic solution for dispensing water. The 99% plastic-free system is designed around the safe, certified and replaceable Nazawa ceramic water filter. Simply add your local water to the top jug, then watch, drop by drop, as the filtered water fills up the glass cradle below. We use a 100% organic terra cotta firing technique to create the top pottery container, while each cradle is hand-blown from recycled Bali glass. An embedded light creates a mystical watery ambiance. It's water, made beautiful.