Home Life List
Household Biodiversity Survey
Our Forest Garden Green Space
Here we keep track of all the species that we're living with in our household's space.  Of course, its a work in progress as new plants, animals, birds and insects take up home here. On the one hand, we are constantly discovering the names new species.  On the other, we are constantly adding and open to new species joining!  You can read the story and the philosophy behind the space here. 
We also keep track of the space that we are sharing with other species.  When we first moved in only about 10% of the space open to any species.  Over the last years, we've put in a compost, turn grass to garden, and welcomed lots of our fellows to be friends.
Of the 224.25 square meters of our space, 110 meters are open to all species.  The ration of our open/closed space has increased from 12% when we moved in to 49% in 2021.
Full Life List
TREES & LARGE PLANTS
Banna tree (Musa acuminata)
passion fruit (passiflora)
Moringa (Oleifera)
Jack Fruit (Artocarpus heterophyllus)
Coconut
Star fruit tree ( Averrhoa carambola)
Lime
Taro

PLANTS
Sweet potatoe(Ipomoea batatas),
Brazillian spinach,
white ginger (Zingiber officinale)
Galangal
Puring
Mangosteen
Hibiscus (bunga sepatu)
Snakefruit
Porang
Cactus
Guava
Papaya seedlings
HERBS
Lemon grass (Cymbopogon)
Cabe Merah (bird's eye chillie)
wild fennel (Foeniculum vulgare)
Greek oregano (Salvia fruticosa)
Pandanus
Luffa ( Luffa aegyptiaca )
Katuk (Sauropus androgynus)
INSECTS:
Praying mantis
Butterflies (needs photos and breakdown)
Moths (needs photos and breakdown)
Beetles (needs photos and breakdown)
LIZARDS
House Gecko
Wall gecko
ANIMALS
Bali dog
House Cat
Roosters/Chickens (Gallus gallus domesticus)
FUNGUS
Mycorrizal network (unidentified)
2021 Count: 37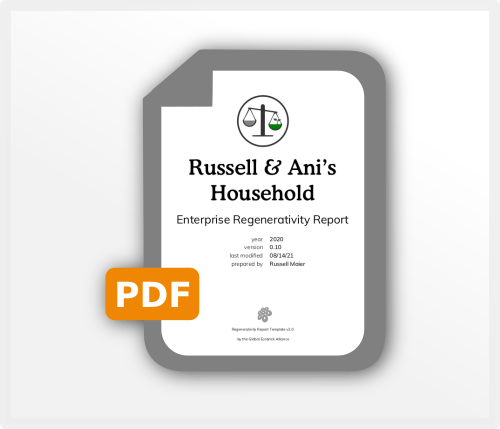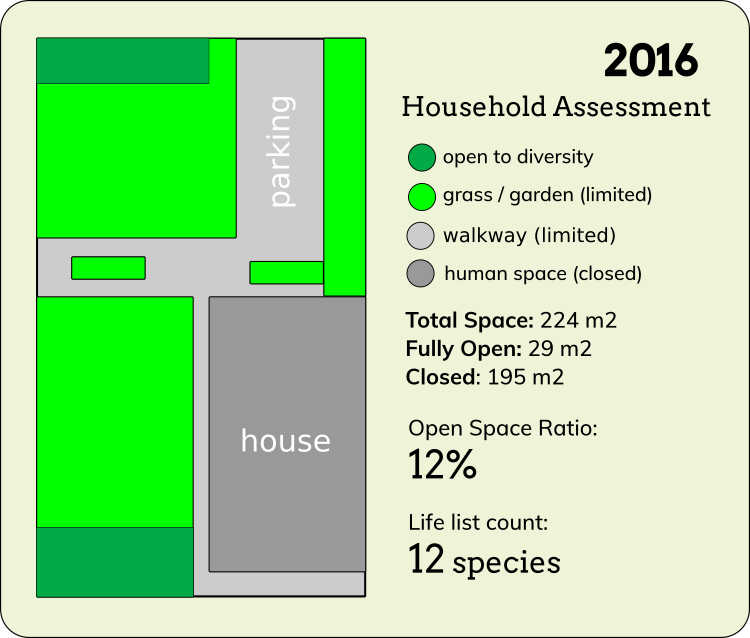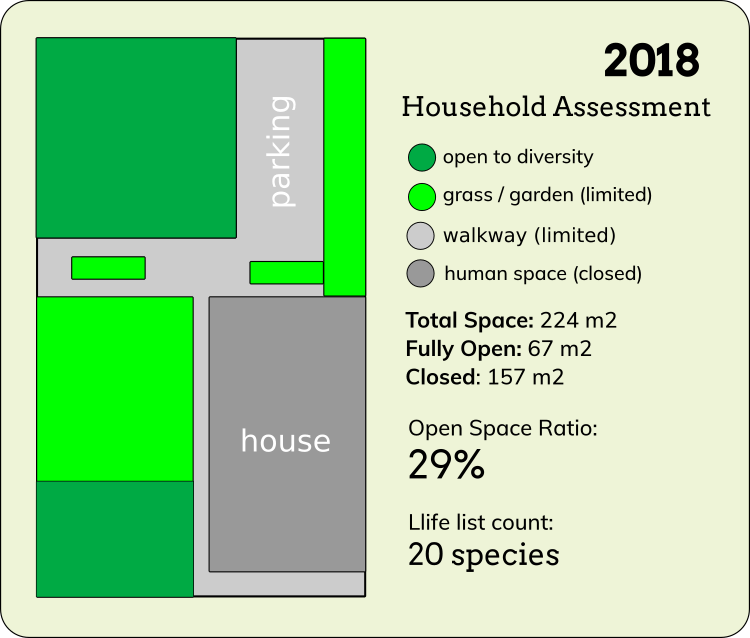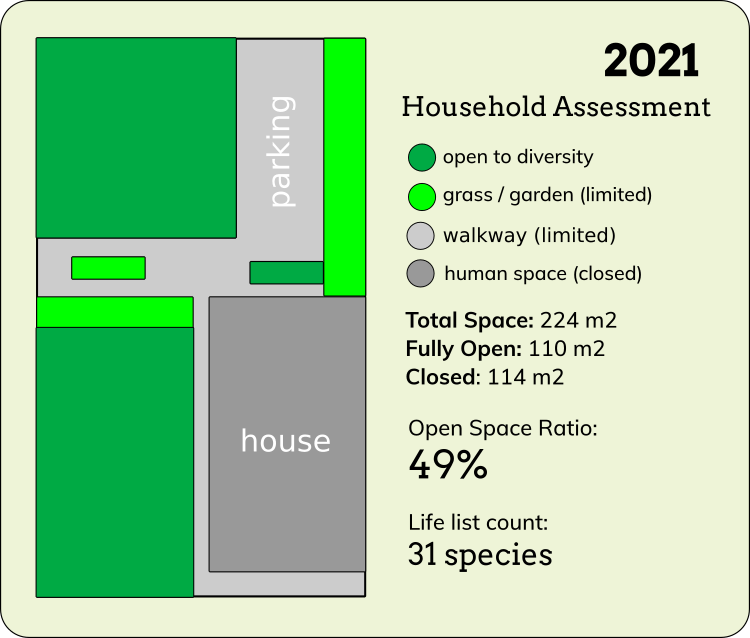 Start Tracking Your Ecological Impact
My Ecobricks.org team have been hard at work the last year generating a household plastic assessment system. It's a great way to start tracking your ecological impacts and tend them towards green.