Living in a small village in the Northern Philippines, I was confronted by a challenge:  what to do with my 'trash'?  There were no recycling boxes or garbage trucks—but my wrappers, plastic bags and such pilling up in my house.  What to do?
Really… what to do?  What to do with plastic is a problem around the planet.  The ever increasing flow of waste plastic  is slowly contaminating, strangling and clogging the once efficient flows of the Earth's biosphere.  These foreign chemicals, heavy metals and artificial molecules of our one-time-use products do not fit back into the life giving ecosystems around us.  In my village, there were no illusions anymore: I could clearly see the river dump pile in my village and the burn pits near the rice fields.
50 years ago in the Igorot villages here, there wasn't even a word for trash—there was no concept of a useless/consumed material.  And there was no pollution or waste.  I realized that the problem wasn't what to do with my waste—but how we think about it.  The very concept of 'waste' and 'trash' is the source of pollution.
Over the last five years, I have been focused on Ecobricks.  Ecobricks are a paradigm shifting technology that literally makes 'trash' disappear.  After starting in my home, establishing ecobricking in my community and then throughout schools in the Northern Philippines, I have since moved on to Indonesia and other South East Asian Countries.  I have been working (and playing!) at innovations that make ecobricks ever more useful, practical and fun.  Applying the principles of mandalic collaboration to the dissemination of ecobricks in SEA, the ecobrick movement has now spread extensively in the Philippines and Indonesia, raising ecological consciousness and keeping thousands of tons of plastic out of the biosphere.
You can see and follow the culmination of my regenerative Ecobrick work on  www.Ecobricks.org
More of my writing on Ecobricks
My Blog Posts on Ecobricks
---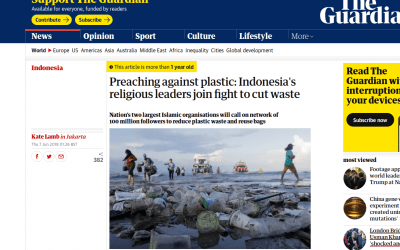 It's pretty cool to see the impact of our work unfold and the impact of the help we get along the way.  I discovered this Guardian article on my Facebook feed that references a meeting and a subsequent training that Ani and I made in 2016 with a Muslim group in Jakarta.   The Guardian picked it up, because it alludes to an exciting evolution in spiritual perspective here in predominantly Muslim, Indonesia.
Comments
comments
Steemit Upvote:
What is an Ecobrick?
An Ecobrick is a plastic bottle stuffed solid with non-biological waste to create a reusable building block. Ecobricks are used to make modular furniture, garden spaces and full scale buildings such as schools and houses.