For the last five years, I've been trying to figure out a reliable, sturdy technique for connecting ecobricks without the need to buy anything— to rely on nothing but used, local, and globally abundant materials. And today… breakthrough!
Ecobricks are themselves made with nothing but used, local, and globally abundant material. This is what makes them so viral as a fundamentally non-capital technology. Alas, we've had to rely on silicone for the making of modules. This isn't so bad– silicone is non-petroleum, non-toxic and easy and cheap to find just about anywhere.
But, it's not perfect.
I was reminded of this yesterday visiting the remote community of Kampung Laut in Central Java. This community was hard pressed to put their ecobricks to use because of the cost and difficulty to source silicone. The situation revived my innovative fervour!
I was reminded me of the wisp of an idea that has come out of my ongoing collaboration with bottle master Budi Boleng Santoso. He and I have been cutting up used motorcycle inner tubes– which happen to be the perfect diameter for enveloping glass bottles – for our Earthbottle project. I thought to myself… could a cut inner-tube-ring manage to envelope two ecobricks? If so…. perhaps we could connect ecobricks into modules in a whole new way.
Using the rubber from inner tubes to wrap and bind ecobricks together isn't new. Folks have been doing that for years. The trouble is that no matter how tight you wrap up the ecobricks with the rubber, no matter how tight you tie them, you just can't get the module tight enough to be 100% sturdy. I have observed the inadequacy of such wrapping in my visits of ecobrickers in Nicaragua, Sri Lanka, and my own experiment in Indonesia and the Philippines. And I saw such failed modules yesterday in Kampung Laut.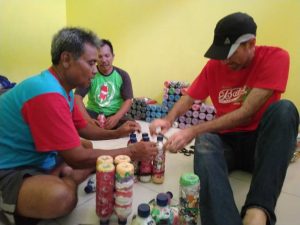 Today, with our ecobrickers friends in Kebonmanis here in Cilacap Central Java, instead of cutting the tires into long strips as before, we cut the tube into rings. We then used these rings to bond two 600ml bottles together with two rings, on the top and bottom. Then we connected a third bottle, top and bottom (four rings), to the first two. The resulting bonds were not just super tight, but the rubber in between each bottle stopped any sliding!
Success!
We moved on and connected 12 ecobricks in this way to make a triangle module. Success again! I could sit and even stand on the module without any sliding or disruption of the pattern.
The idea/technique is so simple. It is pretty crazy that it took five years to get to it. Alas, that's the thing with breakthroughs that simplify (rather than sophisticate). They seem straightforward and easy, yet they are the hardest, the rarest, the most ephemeral and sublime of innovative arrivals!
Be sure to ecobrick any excess clippings from your snipping of inner tubes.
The possibilities are actually endless!
One can connect ecobricks in this way to create modules of any size, flexible boards and solid planks! One should be able to use either bicycle, motor bike or car inner tubes to connect bottles of different sizes.
Comparison between Silicone and Tire Band Connecting on key principles:
Locally Available: 9/10 (you can buy silicone almost everywhere)
Globally Consistent:  9/10  (it is the same everywhere)
Non-Industrial source:  0/10  (it is manufactured)
Non-Capital:  5/10  (inexpensive)
Cradle-to-cradle (reusable):  0/10
Non-Toxic:   8/10
Aesthetic: 9/10
Waste in application:  5/10 (left over tube)
Locally Available: 10/10 (Tubes are everywhere!)
Globally Consistent:  10/10  Every
Non-Industrial source:  10/10 (upcycled)
Non-Capital:  10/10  (free, abundant)
Cradle-to-cradle (reusable):  9/10  (rings are reusable)
Non-Toxic:   9/10
Aesthetic:  6/10
Waste in application:  9.5/10  (and left over clippings can be ecobricked)
I feel this has the potential to revolutionize ecobrick and bottle building applications, and further ignite ecobricking around the world.  I will have to follow up with some sketches and our teams around the world can start experimenting and playing around!