So this is pretty cool– I discovered this Guardian article on my facebook feed that references a presentation that Ani and I made in 2016!  It goes to show, just how far our work has gone!   Back then, Ani and I had were invited to speak to the leaders of Nahdlatul Ulama about plastic and ecobricks. Nahdlatul Ulama is a Muslim group here in Indonesia. But not just any group, its the largest Muslim religious group on the world– with over 90 million members!!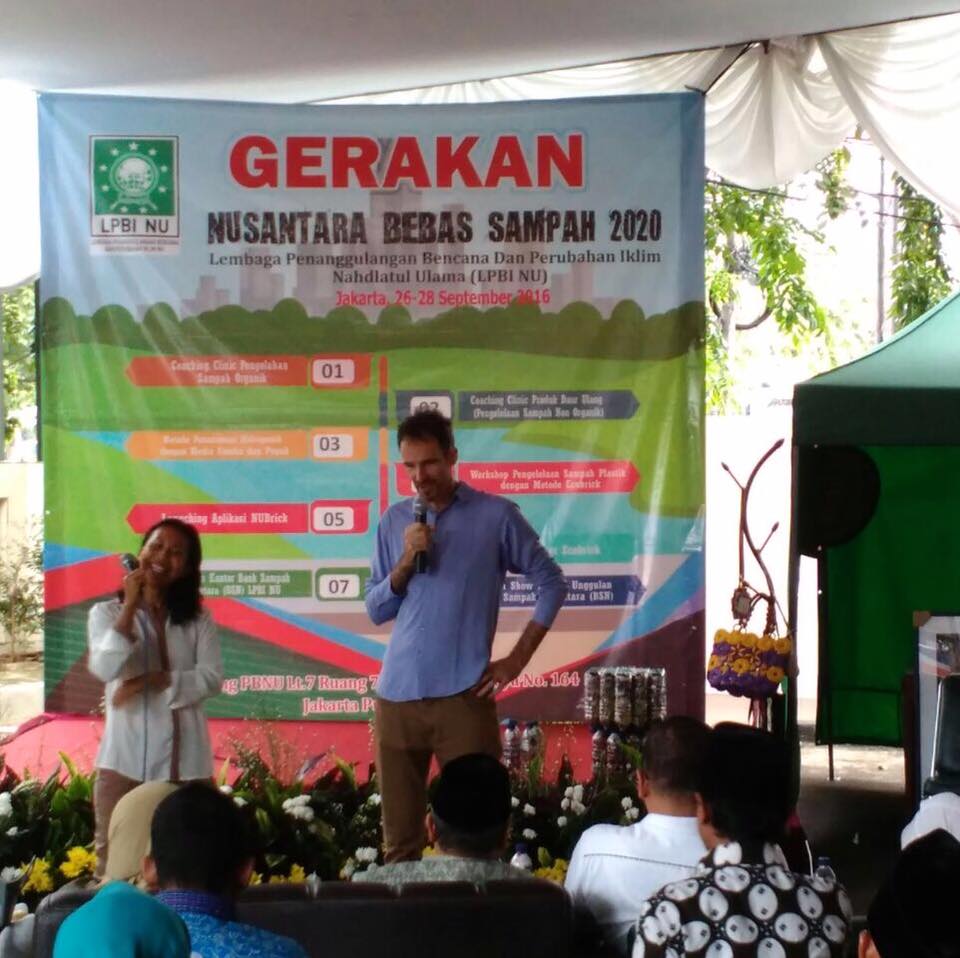 When we got the invitation, things were really right.  Yet, we felt it was super important.  It was being organized by the NU chapter that deals with emergencies in the country (LDPI).  They were keen to focus on plastic as an emergency and were already developing theogical papers for Imams around the country that explored the Koran's call to take care of the natural world and future generations (!).  Not only that, but NU president Said Agil Siradj and the directorate general of KLHK (the department of the Environment and Forestry), Tuti Mintarsih was going to be there.
After accepting the invitation, we were anguishing how to actually get the tickets and make it!!  In Ubud, I bumped into Trisha, one of Ani and my consistent encouragers at the local Ubud cafe.  I told her about the opportunity, and she reached into her wallet and gave us a wad of cash right there!  We were able to get to the event, do our talk, meet Kia Saiid, and most importantly, make friends with the team at NU LDPI.
And the rest is history!  NU has been educating about plastic and encouraging ecobricks ever since.
The Guardian article doesn't say much of this back story… it only mentions (and misspells!) the ecobrick connection in passing.  However, this was a significant moment that, I like to think, played a part in the growing fervent national advocacy for a spiritual approach and deep solution to plastic.  Later, working with the LDPI NU team we were able to train 50 GEA Trainers, run hundreds of workshops around the country, resulting in tens of thousands of ecobrickers, and tons of plastic secured out of the biosphere.
Terimah kasih teman teman NU!  Thank you Trisha!! 🙂
Comments
comments