[polaroidslider id="1760″]
Introducing the world's first bamboo flying disc. Let's have some good green fun! We've worked hard to make this piece of bamboo fly fantastic– throw it around with family on the beach, or with friends on the field. And smile! No plastics, fumes or factories involved.

We believe that here on Earth, we can have way more fun without poisonous plastic and  fuming factories.   Based on the ancestral weaving traditions of Igorots and the Balinese people, we've crafted a multi-purpose flying disc to rock your world.  Your Frisboo not only flies like a charm, its 100% biodegradeable.  Frisboos are handcrafted in village homes using the  the bamboo from a sustainable community fore st.  Don't throw plastic.  Throw bamboo. Catch a Frisboo!

THE STORY
One fateful evening, Russell set about making popcorn. As the kennels started to pop, Russell looked around in panic for the lid to his frying pan. All he could find was his frisbee– which at first glance seemed to be the perfect size for the frying pan. In a cloud of melting plastic fumes, Russell was hit by a profound realization…
Bad idea!
Staring at his half melted disk, Russell also realized, there was no place to discard a trashed frisbee in the remote mountain village where he was living. In his small rural community there are no dump sites, recycling facilities, or trash collectors. Here, there were no illusions of where the plastic would have to go– back into our environment. Into the river, fields, or forests.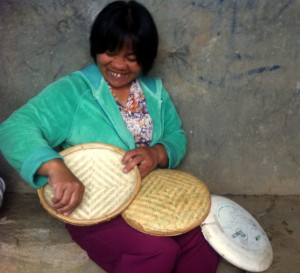 Frisbees are fantastic fun. Alas, frisbees are typically made from plastic. There is no getting around it: Plastic is going to last a lot longer than our fun. In fact, it will last a lot longer than us. Plastics don't fit back into the circles of life. Be it a decade, or a century, this plastic will find its way into contaminating the ecologies that sustain us. Alas, our children and grand-children will be the ones dealing with these poisonous molecules for generations to come.
The Igorot people of the Northern Philippines, one of the few unconquered indigenous people on the planet, have been living in deep harmony with their environment for centuries. After harvesting the rice from the myriad of green terraces surrounding their villages, they would use a thin basket to shake off the husks from their rice.
Russell's beloved frisbee destroyed, he noticed how the amazing rice-winnower weaving tradition of the Igorots shared a remarkable resemblance to his dead disc. Profoundly excited at the potential of crafting a truly organic frisbee, he set to work with weavers in several villages, working in various styles, to develop the prototype woven frisbees featured here.
ORDERS
We are getting ready to take orders both locally in Bali and online.  Almost there!  Hold on as we get our production ready for October.  For advance wholesale orders, drop Russell a line at russmaier  (at) gmail.com
SPECS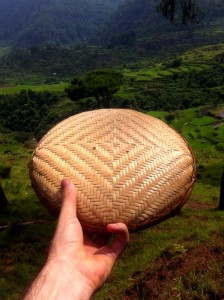 [minitabs] [minitab title="Tech Specs"]
Materials: The Frisboo is made from 100% bamboo.
Weight: 150-165g (depending on dryness of frisboo),
Size: 10-11 inches in diameter. As Identical as possible to a standard Discraft, Official Ultimate Disk.
Recycling: 100% biodegradable.
[/minitab] [minitab title="Ancestral Design"]
Our frisboo is made in the manner of the rice winnower "plates" that the Igorot people have made and used for centuries to remove the husks from their rice. These "Ligao" or "Bituto" baskets are used to toss rice up and down to clean them of their husk. The task and the baskets can still be seem all over the Northern Philippines and rural Sourth East Asia where most families still sow, care, and harvest their own rice paddies. [/minitab]
[/minitab] [minitab title="Care"]
Avoid playing on concrete and throwing to dogs. Frisboo can safely get wet– but be sure to sun dry the next day. Store in a dark dry place for maximum longevity (similar woven baskets that have been well cared and used are over a century old!).
[/minitab]
[/minitabs]