Bamboo Solar Pixel Project
This bamboo pixel installation is a collaboration between regenerative inventor Russell Maier and Bambu Akademy Nusantara.  Russell Maier, a Canadian living in Indonesia, specializes in open source, zero waste innovations, that can be copied and replicated with local materials.  This bamboo pixel installation uses simply bottles, food coloring, water with a little vinegar, suspended in a bamboo grid.   No waste was created in the making of the installation and every element can be recycled afterwards.  Here the Pixel Project is used as light transmitting wall for ABN's Rumah Oksigen's low cost, bamboo house concept. Russell is one of the principals in the Indonesian Ecobrick movement. Read more about Russell's design philosophy here.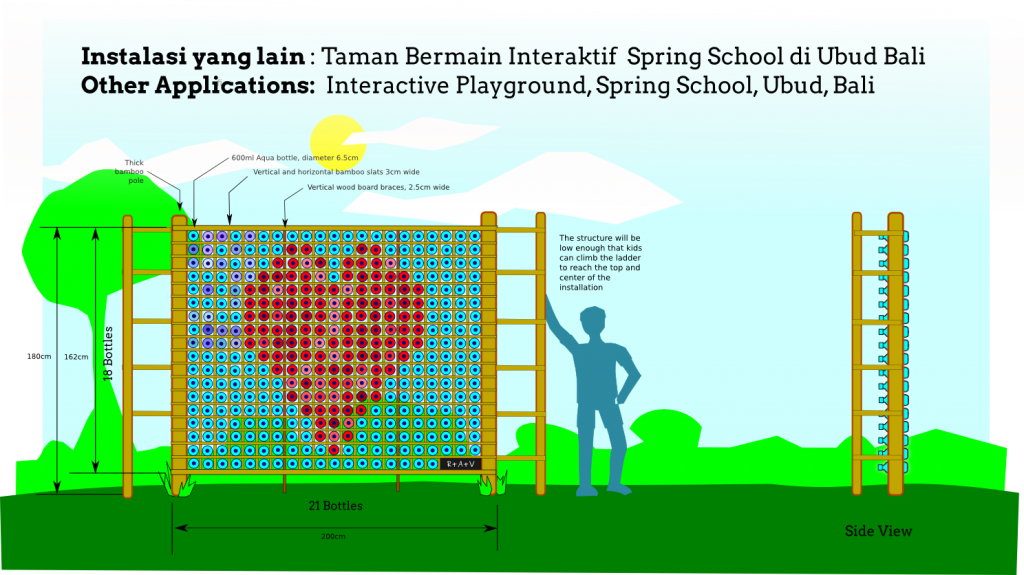 Instalasi Bambu Pixel merupakan kerja sama antara eco-disainer Russell Maier dan Akademi Bambu Nusantara. Russell Maier, warga negara Kanada tinggal di Indonesia, spesialis green disain, dan inovator dengan botol, bambu dan 'sampah'. Disainnya dapat dibuat dengan menggunakan bahan-bahan lokal. Instalasi Bambu Pixel dibuat dari botol mineral bekas, pewarna makanan, air, dan sedikit cuka, kemudian dimasukkan kedalam kotak bambu. Tidak ada limbah atau sampah yang dihasilaka dalam pembuatan project pixel dan setiap bahan yang digunakan dapat didaur ulang.  Contoh instalasi di atas, digunakan sebagai penerangan alamiah untuk Rumah Oksigen dari Akademi Bambu Nusantara– Konsep Rumah Bambu murah. Russell juga salah satu ketua Gerakan Ecobricks Indonesia.  Membaca design Filosofia di Russell.