The Evolution of the Flying Disc
Moving on from the age of petroleum, the handcrafted Frisboo flying disc is 99% bamboo and biodegradeable. Steeped in regenerative philosophy, after three years of R&D we have a mind-blowing innovation that out performs its plastic step-cousin.
I love to play disc.  I love to make things– and while doing so I avoid plastic and prefer bamboo.  These play parameters have set me off on a long journey of cocreation.  For the last few years I've been working with weavers from around South East Asia to create the next evolution of the plastic disc.  Currently, we make and sell individual discs, but my ultimate dream is to take this to the next level, of mandalic collanoration:  an open source, organic disc that anyone can make anywhere.
Two to three times a week I am throwing a disc around with my friends, so you can bet I've worked hard on the Frisboos aerodynamics.  After tons of testing and refinement the discs fly beautifully and last long. Because of bamboo's texture, the grip is better than plastic– your throws are more accurate and consistent.  ​Because the disc is less rigid than plasic, it is more friendly to catch.  Because of the wiffles in the weave, the disc hangs and floats longer in the air than plastic.    And because they are organic, they fit back into the cycles of life than a dead-end plastic disc could ever dream!
The Story
The inspiration for the development of the Frisboo begins when I was living in the Northern, Philippines, in a small village, far from the city, and far from any sport shops.  My friend Shane, had made the long journey up from Manila to Sagada, and had gifted me with his MEC frisbee.  I am a great lover of playing disc, so it quickly became one of my prized possesions.  I would play every Sunday with my friends on one of the few flat fields near St. Mary's school.
Then, one fateful evening, I set about making popcorn. As the kennels started to pop, I looked around in panic for the lid to his frying pan. All I could see near me was the plastic frisbee– which at first glance seemed to be the perfect size to cover the now frantically poping kernels. Then,  in a cloud of melting plastic fumes, I was hit by a profound realization…
Bad idea!
Staring at my half melted disk, I also realized, there was no place to discard a trashed frisbee in the remote mountain village where I was living. In my small rural community there are no recycling facilities or trash collectors. Here, there were no illusions of where the plastic would have to go– back into our environment.  In my village waste was either burned or dumped in the river.  I have since come to realize that whether you live in a city or in a village, the reality for plastic disposal is shrouded in various levels of illusions.  Whether its recycled a few times or dumped in a "waste disposal site", that means inevitably it headedto the rivers, fields, forests and oceans.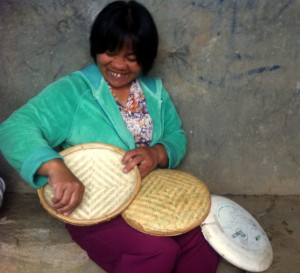 Frisbees are fantastic fun. Alas, frisbees are made from plastic. There is no getting around it: Plastic is going to last a lot longer than our fun
I was deeply inspired by the Igorot culture of the community where I was living.  The Igorot people of the Northern Philippines, one of the few unconquered indigenous people on the planet, have been living in deep harmony with their environment for centuries. After harvesting the rice from the myriad of green terraces surrounding their villages, they would use a thin basket to shake off the husks from their rice.
My beloved frisbee destroyed, he noticed how the amazing rice-winnower weaving tradition of the Igorots shared a remarkable resemblance to his dead disc. Profoundly excited at the potential of crafting a truly organic frisbee, he set to work with weavers in several villages, working in various styles, to develop the prototype woven frisbees featured here.
The Frisboo journey had begun!  I could see it!  A flying disc made from woven bamboo.  A disc that flew so well that it was on the same level as plastic.  A disc, that one day, would be straightforward to weave– so that its open source design could be copied and improved around the world.  I sought out the remaining weavers in the villages around me.  Often that meant biking up mountain tops to find them.  To start I would bring them my destroyed plastic disc and they would copy it.  Soon, the prototypes were flying so good, it was about improving the design.
That journey continues to this day!  You can order a Frisboo and see the status of the project at www.Frisboo.org
My Blog Posts on Frisboos
---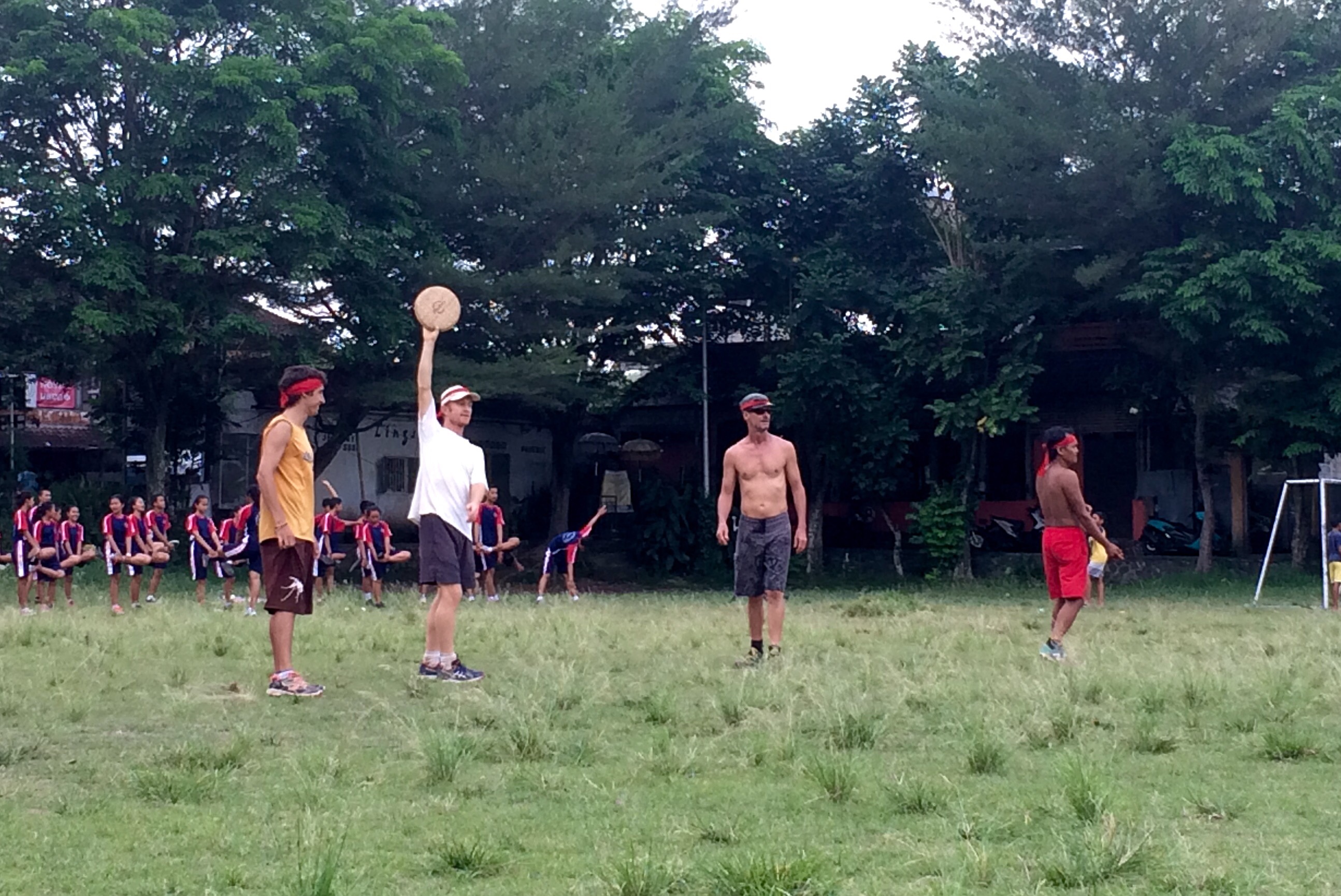 Yesterday we played the world's first ever game of ultimate with a bamboo disc.  It was a dream come true!  I have been working slow and steady on the Frisboo design, from the Philippines to Nepal, for the last two years. Although we've played tons with the disc in...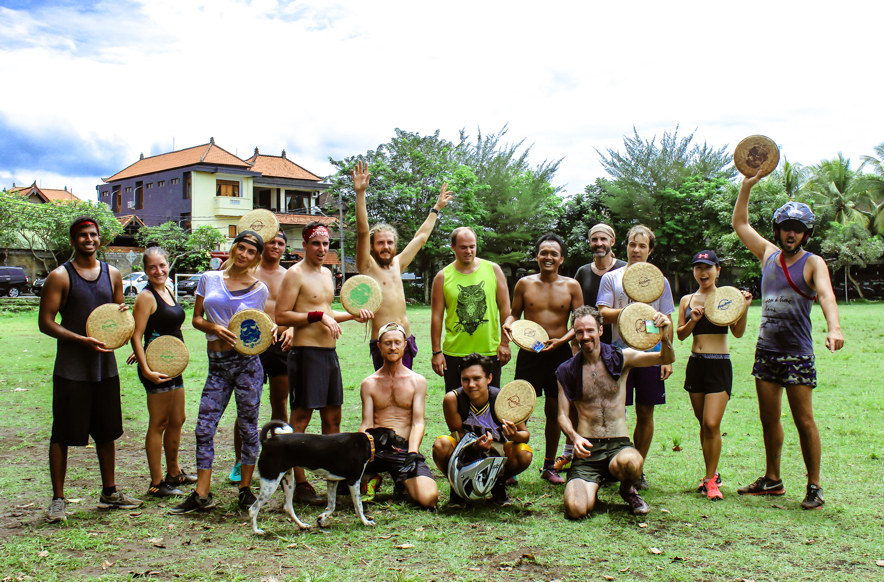 We just got in our custom printed Ubud Om Trooper Frisboos!  Here's the team with the latest model of the first ever bamboo flying disc. Thanks to My Nguyen for the...
Comments
comments
Steemit Upvote:
Introducing the Frisoo
Inspired by the ancestral weaving traditions of the Igorots in the Cordilleras of the Philipines, the resilient design endures play in sun, sleet and snow. And, it throws and catches even better than plastic! The wiffles of the weave allow it to hang longer. The organic texture is more friendly to grip. The flexible structure make catches softer. Your throws just naturely fly better. Whether you take it to the beach or the field, the Frisboo is a blast for beginners and guaranteed to amaze the pros
Comments
comments