A Solution to The Disposable Cup
Introducing an open source, non-industrial, 100% organic solution to transcend the global scourge of disposable cups.  Moving on from plastic, manufactured and imported cup high-technology, this a low-tech, local solution, that can be freely copied by anyone, anywhere.

The Insanity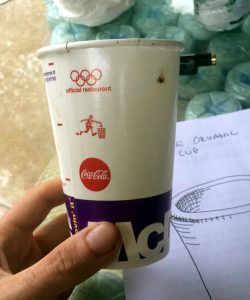 We all know it's a ridiculously massive problem: those Starbucks and Tim Hortons cups that are manufactured way over in China, shipped to your country and then dumped into a landfill after 15 minutes of usage. A recent report in the Guardian found that in the UK alone 2 Billion coffee cups are despised of every year: "Coffee-addicted Britain is leaving a mountain of toxic waste for the next generation as scientists warn it could take decades for paper cups from Starbucks, Pret a Manger and other chains to decompose."
A mixture of polyethylene plastic and high quality virgin paper means are completely unrecyclable and UN-compostable. It not only takes an estimated 30 years to degrade, but once degraded methane and micro plastics result.  And to make the cups the Gurdian estimates Britaim alone downs 100,000 trees.  It's quite literally civilization all insanity.
Capital Industrial Re-Design Faiure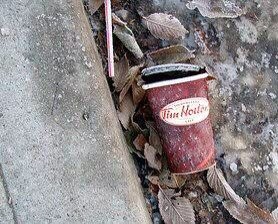 People have been working a better coffee cup for decades. Starbucks has been trying to up the recycled content of the cup from 5 to 30% (still no success). Other companies try to manufacture the cups from all organic materials– a step forward to be sure, but they are unable to compete with the massive economies of scale of the entrenched plastic cup manufacturers. So to this day, there is no change and no progress. Go to Starbucks, McDonalds or any other coffee shop and it's virtually the same cup as in 2007.
Here in Bali, we have Avani cups that are made from Casava and biodegradeable.  However, my friend who handles their FedEx account, reports that these cups are actually manufactured in China and imported to Bali.  These cups, because of the shipping involved remain prohibitively expensive and dubious in their net ecological value.
The Problem is the Paradigm
The coffee cup is a great example of how you cannot solve a problem from the same consciousness that generated it. All this time, innovators and companies are working in the same capital-industrial paradigm of manufacturing and global distribution and petroleum power. No wonder the innovations are more of the same.
"A problem cannot be solved by the same consciousness that generated it. "

— Albert Einstein.
A whole new way of doing things is necessary! It's taken me ten years to realize this myself. Back in 2007 I was super critical of the cups. In 2014 I worked in a recycling plant and saw all the cups being dumped. Only now, after observing the success of Ecobricks, and distilling the underlying principles, do I have an inkling how it can be done.
The EarthCup Vision
Our vision is of an open source design that any one can access online, download, print the specs and photos, and take to their local potter.  The design will include Vector files for design virtue icons that can be stamped onto the cup.  From there, anyone can get their own cups locally made for their own coffee store, or to supply coffee cups for stores in their community.  The dissemination will be mandalic– I will start using the cups myself, then with my circle of friends, then enable the next social circles to tap our innovation, and contribute back their own revisions and insights to the central design core.
Source Files and Status
The EarthCup design process is now on its fourth prototype.  We continue to refine both the design, creation process, and virtue icons.  You can now download the source files for our two cup sizes:
Design Doc
Bring this document to your local potter to provide precise specifications for creation.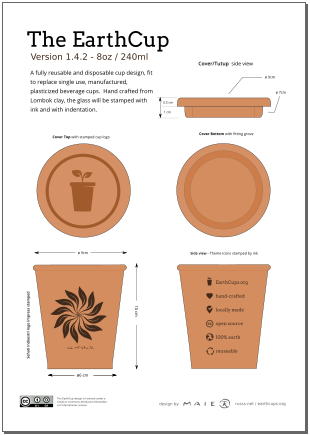 Large EarthCup
(12.5 cm high / 120oz
Large EarthCup Design Document v1.4.0 ENG (PDF 150k)
Small Cup
(10cm high, 80oz):
EarthCup Concept, Icons and Dimension – Small – v1.4.3
Virtue Icons for Stamp Making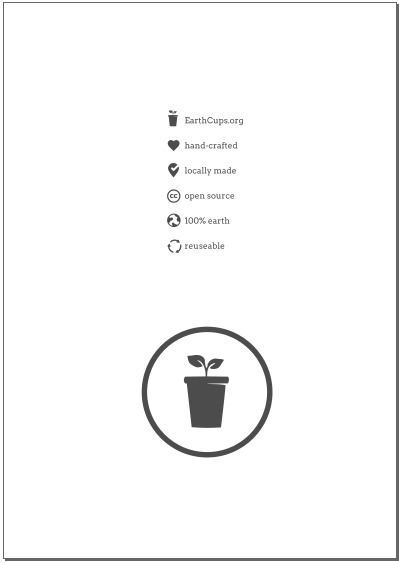 Download and bring this pdf to a stamp maker to make the virtue icons for the side of the cup, and the icon for the top of the lid.
Small Cup
(10cm high, 80oz)
EarthCup Icon Stamps – Small – v1.4.3

We can now make small runs of cups in Ubud, Bali.  Drop us a line if you are interested.
My Posts on EarthCup progress
Bali is full of surprises.  Last week my friend Swastika helped me find some potters just a few kilometers away from my house!   They make very traditional and simple earthen ware.  The quality of the firing and glaze isn't quite as high as the guys who made our first...