Bamboo Solar Bike
Transportation. We need it—but at what cost? Can we do better? Introducing our radically Organic Bamboo Bicycle.
All too often, traditional transportation takes us faster and faster away from sustainability and independence. Fossil fuel transportation not only is one of the biggest causes of green house gases, it means we walk and move way less than we should. Oil, mining, metals and fumes are just the tip of the melting iceberg. So, how can we part of the solution?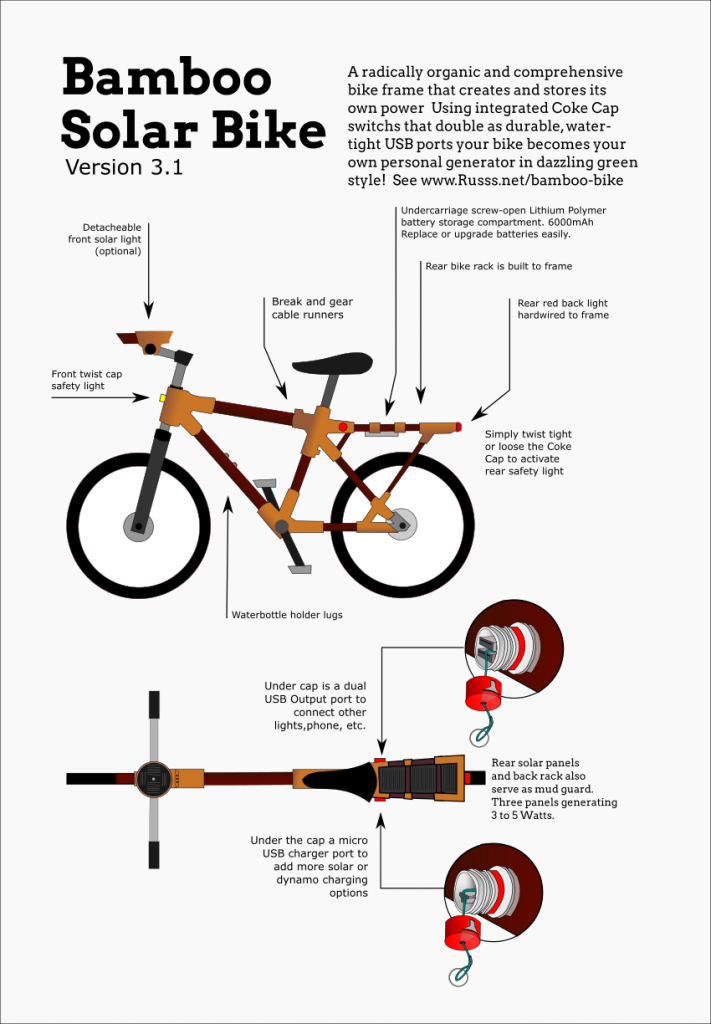 Bicycles allow us to put transportation back under our own power. Alas, the manufacturing of bicycles are a miniaturized mirror of auto manufacturing. The slew of plastic components and add-ons that we require for our bikes also become a stream of short lived products that steadily slide into pollution.
We can do better! Imagine if bicycles not only empowered us with personal transportation, energy, exercise and freedom, but that they directly contributed to the greening (not the greying) of the planet. Imagine a bike that has everything you need built in, including power generation, lights and energy storage. Imagine if we could grow our transportation– rather than greying the world by moving around, we would be greening it!
Well, our Bamboo Solar bikes are here and we are already riding them!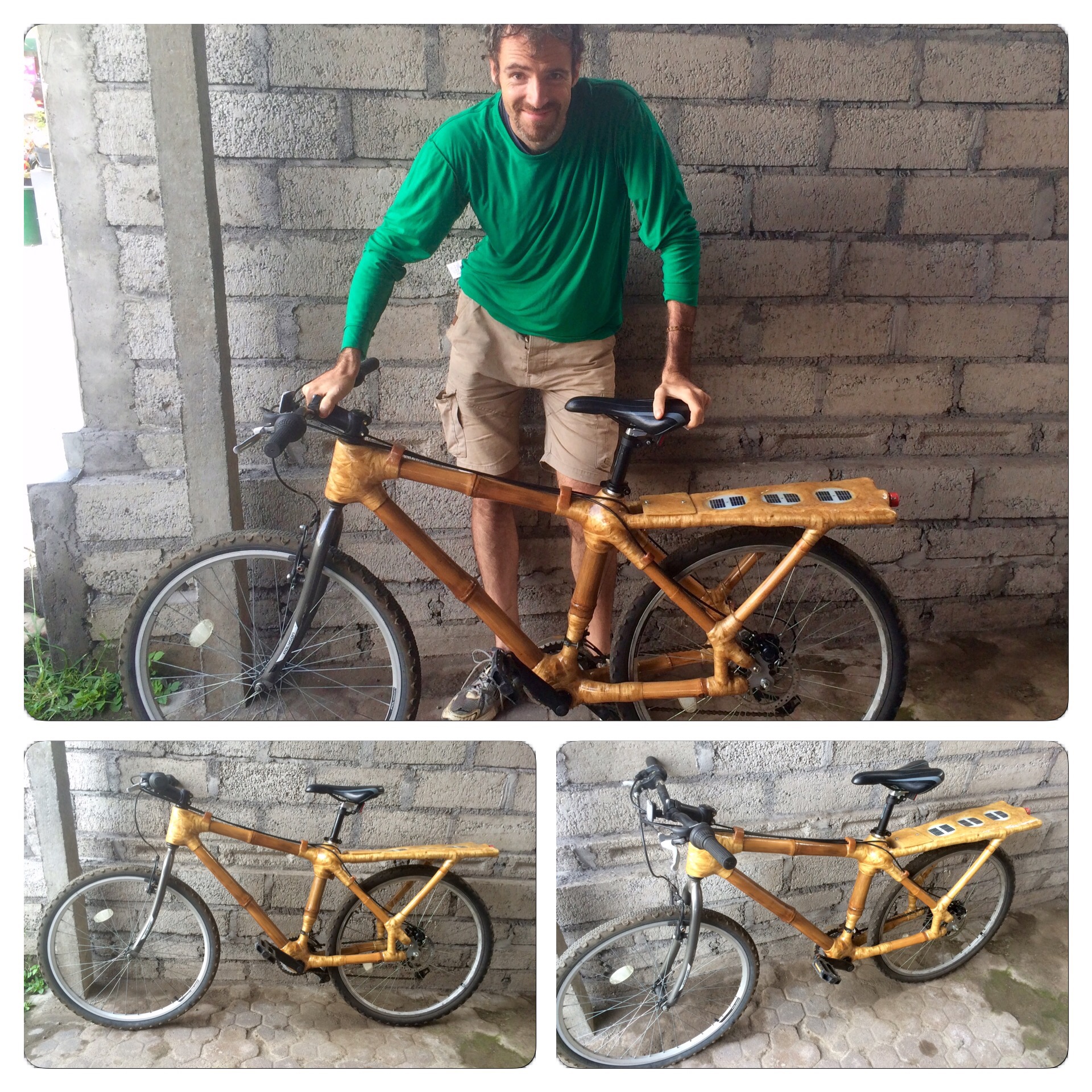 The Bamboo solar bike are made using OpenCharger.org technology. Our current version 3.0 Bamboo Bikes feature a rear carrier with a built-in solar charging array, and USB output and micro USB input (for rainy days, or connecting to a third party dynamo).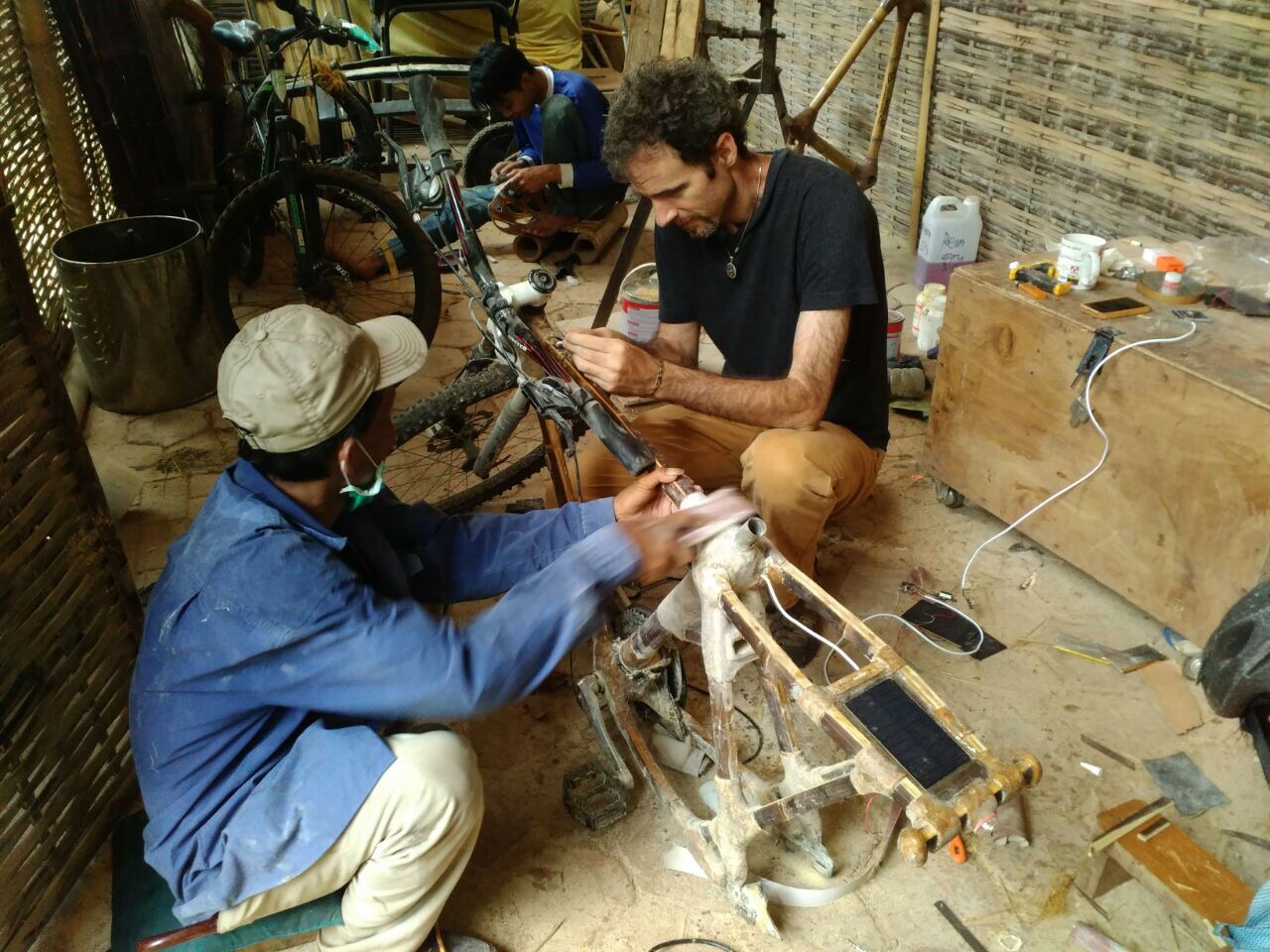 Bamboo Solar Bike frames start at 800$ USD. Go ahead 50% down payment. Fully customized to your size. Shipping extra. Drop Russell a line if you are interested at russmaier (at) gmail (dot) com
Materials:
Filipino Bamboo. Joints: Abaca fiber/polyeurathane.
Weight: 5-15Kg Depending on the requested size and sturdiness of the bike. We can make for hardcore off-roading or light city riding.
Size: Frame sizes can range from 18"-21".
Recycling: 100% biodegradable bamboo.
Current version 3.0 bike is configured with 3-5W of solar charging, Battery bank compartment, rear LED light, micro-usb charge-in port, and a regular USB port for charging out at 1.2 A.
It will take us 3 months to make your frame. We are getting better and it could be less! Shipping time and shipping cost are extra and depend on your preference. International shipping ranges between 100-300$ depending on speed and weight of the shipment.